Delicious, nutritious and convenient, Supreme Protein® just might be the ultimate functional food. Each sensational flavor is nutritionally designed to significantly impact your physique-enhancing goals.
From its premium-quality protein blend—powered by ultra-pure whey isolate as its primary source—to the truly amazing taste, Supreme Protein® has emerged to become a leader in the protein bar market. In fact, no other product of its kind has earned more accolades and awards than this gourmet brand.
With numerous major awards in the last year alone, including "Best in Category" and "Product of the Year" from major publications and retailing associations, it's little wonder that Supreme Protein® is such a runaway sensation.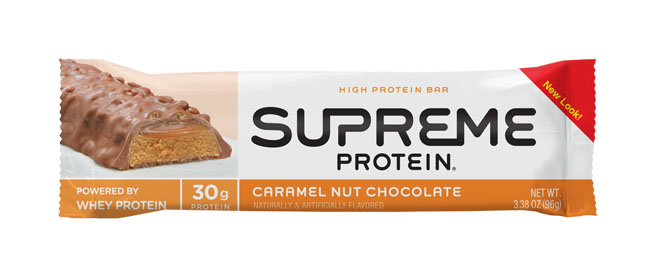 Caramel Nut Chocolate
Delicious layers of rich chocolate flavor, peanuts and caramel.
German Chocolate Cake
Chewy coconut, crunchy almonds, and rich German chocolate flavor.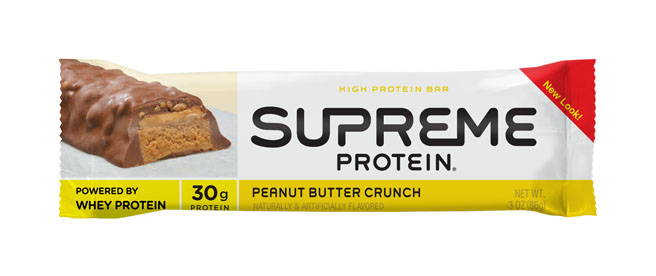 Peanut Butter Crunch
Delicious layers of rich peanut butter, chocolate flavor and protein crisps.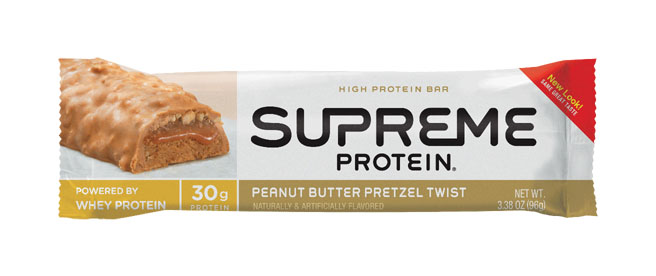 Peanut Butter Pretzel Twist
Delicious layers of creamy caramel, peanut butter flavor, and pretzel pieces.
Science: About Whey Protein Isolate
The scientific debate over which form of protein possesses the greatest anabolic power came to an end a few years ago, with one form emerging the clear winner. Compared to whey concentrates, caseins, milk or soy proteins, whey protein isolate (WPI) contains the highest amounts of the valuable microfractions in whey that support increases in lean muscle mass. It has higher concentrations of the essential branched chain amino acids L-isoleucine, L-leucine, and l-valine, and is a rich source of the powerful microfractions alpha-lactalbumin and glycomacropeptides, which are key factors in enhancing bioavailability, boosting immune response and greatly increasing anabolic activity. Whey isolate also has demonstrated a nutrient partitioning effect, driving nutrients away from fat storage and toward accumulation of lean muscle tissue. Finally, high quality whey protein isolate contains no fat, lactose or impurities.
Clearly, premium-grade whey protein isolate is your best muscle-building protein value. And no other bar on the market today contains more whey isolate than the amazing Supreme Protein®—a masterpiece of nutrition and flavor in every bite!