Ideal Omega: the Highest EPA for Your Heart
Ideal Omega is the Golden Standard in Fish Oil.
If you know your Omega-3 well enough, you will probably know that the amount of EPA in a single capsule makes all the difference! Each Ideal Omega capsule contains 700mg EPA and 200mg DHA – the important active ingredients that maintain your heart and blood. This translates into more than 50% effective ingredients than the normal street brand.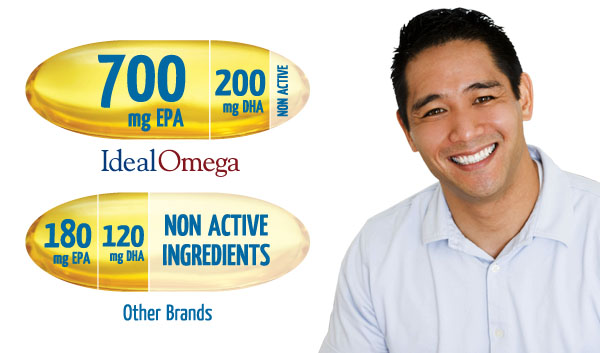 700mg of EPA, 200mg of DHA and 20mg of DPA in each fish gelatin capsule
Abides to the optimum ratio of 4:1 for EPA:DHA
Made in Canada
Cold-pressed at source
Started by a cardiologist
Molecularly distilled to pharmaceutical standards
Independently analysed for purity by an FDA approved laboratory
Exceeds all US and European standards for PCBs and heavy metals
Subtle lemon flavour – no fishy aftertaste
Capsule does not contain Bovine or Porcine Gelatin
Specially formulated for high dosage use
Currently being used in University research trials
Significantly improve the Omega Blood Count
MSC certified as from sustainable fish stocks
Superior quality, purity and concentration of active ingredients.
Screened for the presence of a wide range of substances prohibited by WADA at an (ISO 17025) accredited sports testing laboratory
Ideal Omega-3 is definitely the best Omega-3 supplement available!