ActivKids
Yummy Supplements for Kids
ActivKids is a range of totally yummy health supplements for kids!
We want kids to love enjoy eating their vitamins, every time, every day.
Synbiotics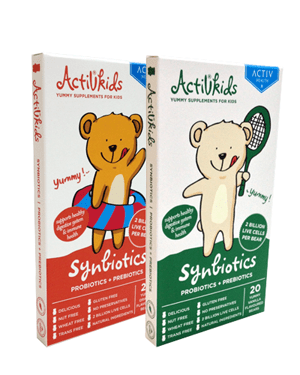 Yummy Orange & Vanilla Flavours
Probiotics are good bacteria that play an important role in your kids' overall health. They are living microorganisms that support your kids' digestive and immune systems.
Prebiotics act as food for probiotics, helping them to grow more and flourish better in their digestive systems. Together, prebiotics and probiotics combine to form a synergetic group known as synbiotics.
Multivitamin

Yummy Chocolate Flavour
ActivKids multivitamin contains vitamins and minerals which are the most essential for a child's normal development. Multivitamin helps complete children's unbalanced diets, supporting a healthy immune system and prevent illnesses.
ActivKids multivitamin comes in milk chocolate flavour that children love, containing no artificial colours, flavours or preservatives.
Multibiotics

Powerful Blend Of Nine Probiotic Strains
– Superior stability & efficacy
– No artificial preservatives
– Clinically proven effective
– Developed with Maastricht University Medical Centre, Netherlands