Fit Crunch

Baked Protein Bars
FIT CRUNCH™ Baked Bars have redefined the protein bar experience by crafting a great tasting healthy solution for fitness motivated individuals looking to reach their potential.
For decades protein bar companies lied directly to your face about how their product has great-taste. The masses have been conditioned to accept and expect bad taste as a tradeoff for great nutrition. Those days are over…
World-renowned Chef Robert Irvine and FortiFX™ founder/ industry pioneer Sean Perich teamed up to create a protein bar that provided real great-taste and nutrition. These two industry leaders pushed one another to create a product worthy of their reputations and beyond your expectations: FIT CRUNCH™ Baked Bars were born, the only 6-layer baked bars on the planet.
Each bar delivers the highest quality protein blend, starting with Whey Protein Isolate. With low sugar, FIT CRUNCH™ Baked Bars eliminate the sugar spike while making it easy to stay on track with your fitness goals.
People usually try a protein bar and say, "That's good for a protein bar." With FIT CRUNCH™ Baked Bars, people take one bite and after being speechless for a few seconds they say, "This doesn't taste like a protein bar." The baking technology provided by Sean Perich and the gourmet inspired taste of Chef Robert Irvine, is what sets FIT CRUNCH™ Baked Bars apart from the rest.
A lifelong body builder as well as the acclaimed culinary expert who is famous for bringing great taste to nutritious foods, Chef Robert Irvine said this about the bar: "As good as anything I've ever made."
Cookies & Cream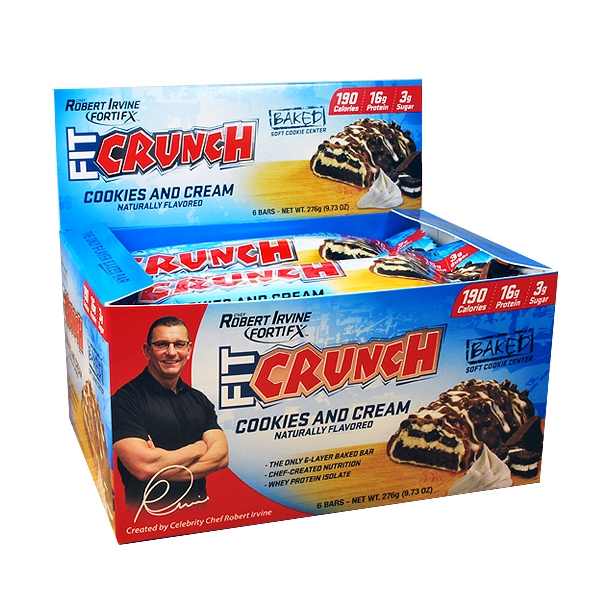 A rich, chocolate cookie core, is layered with fluffy vanilla cream, crunchy chocolate graham bits, high protein white chocolate and chocolate crisps. Lastly, we top each bar with a high protein chocolate and white chocolate drizzle. This is one rich, exciting low calorie treat.
Peanut Butter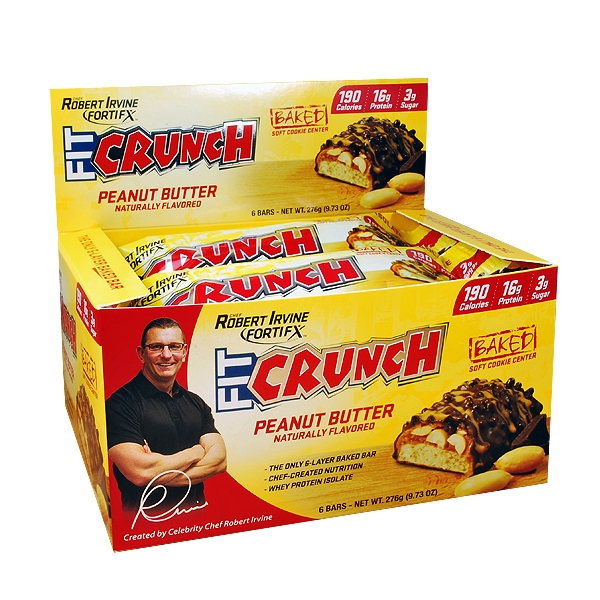 A vanilla cookie core is layered with peanut butter, fresh peanuts, high protein chocolate, chocolate crisps and top-layered with a creamy chocolate and peanut butter drizzle.