Efamol Efalex Vision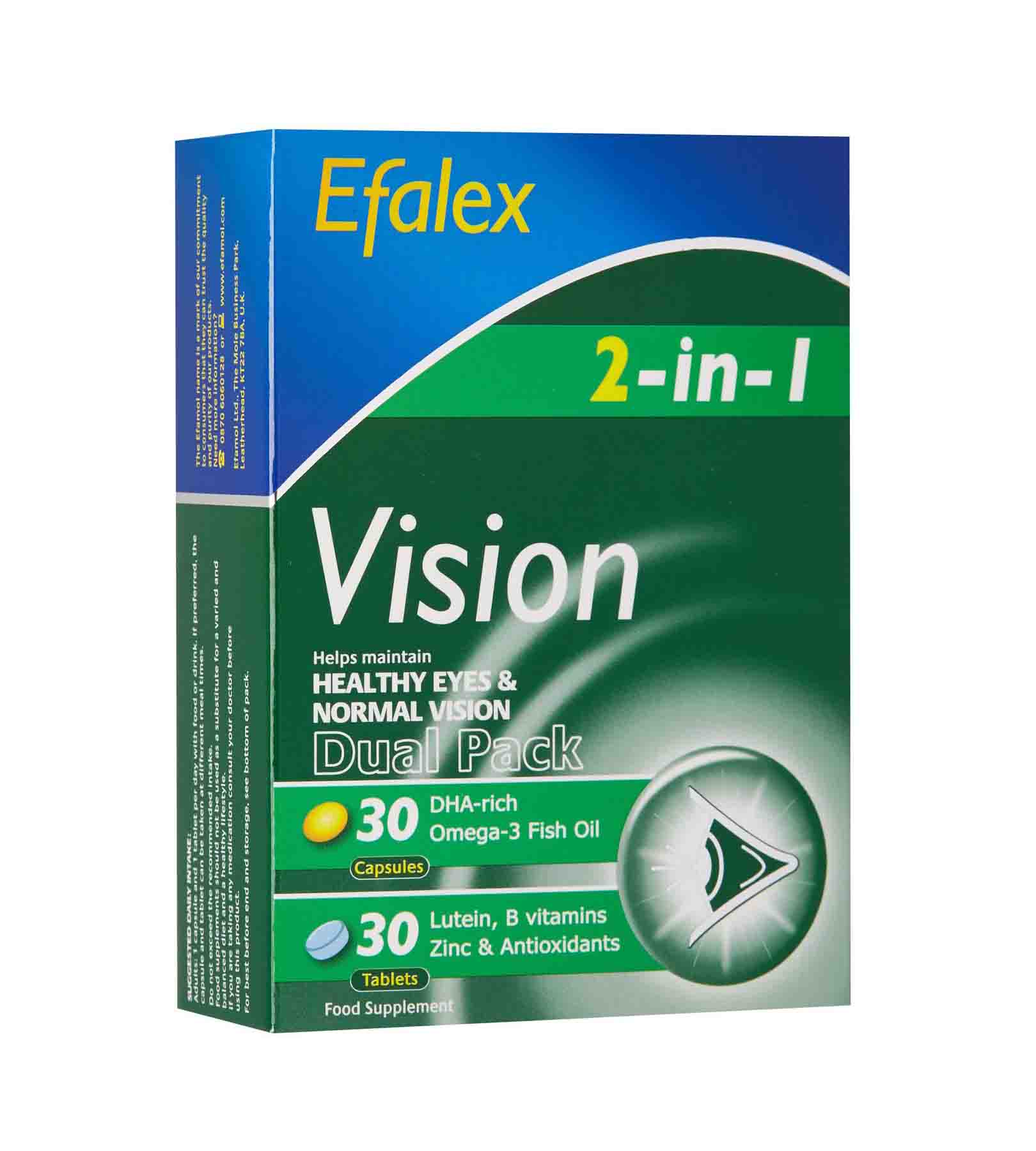 Maintains Healthy Eyes & Normal Vision
A healthy lifestyle and balanced diet sufficient in vitamins, minerals and omega-3 fatty acids are essential for helping to maintain good vision, but many modern diets can be lacking these key nutrients. Help is at hand with Efalex Vision, a new dual-action supplement combination, ideal for supporting the maintenance of healthy eyes and vision.
Research has shown that omega-3 fish oils, such as Docosahexaenoic acid (DHA) and Eicosapentaenoic Acid (EPA) can help to lower the risk of cataract removal and age- related macular degeneration (AMD). AMD is the leading cause of blindness in developing countries and accounts for over 50% of blindness1.
Approximately 2.5 million elderly people are affected by late AMD in Europe and 21 million worldwide1. In the United States, cases of AMD are expected to rise by about 50% over the next decade to reach 30 million by 20202. According to the Ministry of Health, AMD ranks among the top 4 causes of blindness in Singapore3. It typically affects those above 50 years of age. In addition DHA is essential for the maintenance of brain and eye health and the largest concentration of DHA in the body is found within the eye.
Studies show that fish oil fatty acids and antioxidants nutrients such as lutein and zeaxanthin may assist in reducing incidences of cataract and AMD, as they help protect the eye from harmful free-radicals which can lead to poor eye health1.  Efalex Vision is specially formulated with these key ingredients to support visual function.
Take one capsule and one tablet per day with food or drink. Each 750mg capsule contains high strength omega-3 fish oils, DHA, EPA, AA, and vitamin E. Each tablet contains B vitamins, vitamin C, vitamin E, Zinc, Bilberry and the powerful antioxidants lutein, zeaxanthin and selenium. The combination of the capsule and the tablet helps to deliver important care for healthy eyes and vision.
Efalex Vision comes in 30 capsules and 30 tablets and retails at all leading pharmacies for S$29.90. Please feel free to contact me should you have any enquiries at 63339728 or email: Samuel@activhealth.com.sg.
References:
Ho L, van Leeuwen R, Witteman J, van Duijn C, Uitterlinden A et al. Reducing the genetic risk of age-related macular degeneration with dietary anti-oxidants, zinc and omega-3 fatty acids. Arch Ophthalmol 2001;129(6):758-766.
Kishan AU, Modjtahedi BS, Martins EN, Modjtahedi SP, Morse LS. Lipids and Age-related Macular Degeneration. Survey of Ophthalmology 2011;56(3):195-213.
Ministry of Health, Health Promotion Board, Singapore, Age –Related Macular Degeneration. http://www.hpb.gov.sg/diseases/article.aspx?id=6216